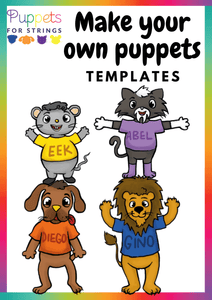 To support the learning, our method uses puppets! Yes, these are the 4 string friends that you have been meeting throughout our Momisi Music House YouTube channel episodes.
Download the Puppets Template -a digital product- and watch the accompanying video so you can easily make these puppets at home. 
Tell your students to get the Template and Tutorial Video as well so that they can also make the puppets and have fun while they learn about the strings and our animal friends!